The Russian Chamber Music Foundation of Seattle is host to numerous events every year, bringing the best of Russian music to American audiences.
UPCOMING EVENTS
Russian Chamber Music Foundation of Seattle and Mercer Island Presbyterian Church is proud to present:
"From Vienna with Love"
Violin and Piano concert
Saturday, September 16th 7:00 PM
3605 84th Ave SE, Mercer Island, WA 98040
Yury Revich from Vienna – violin Natalya Ageyeva – piano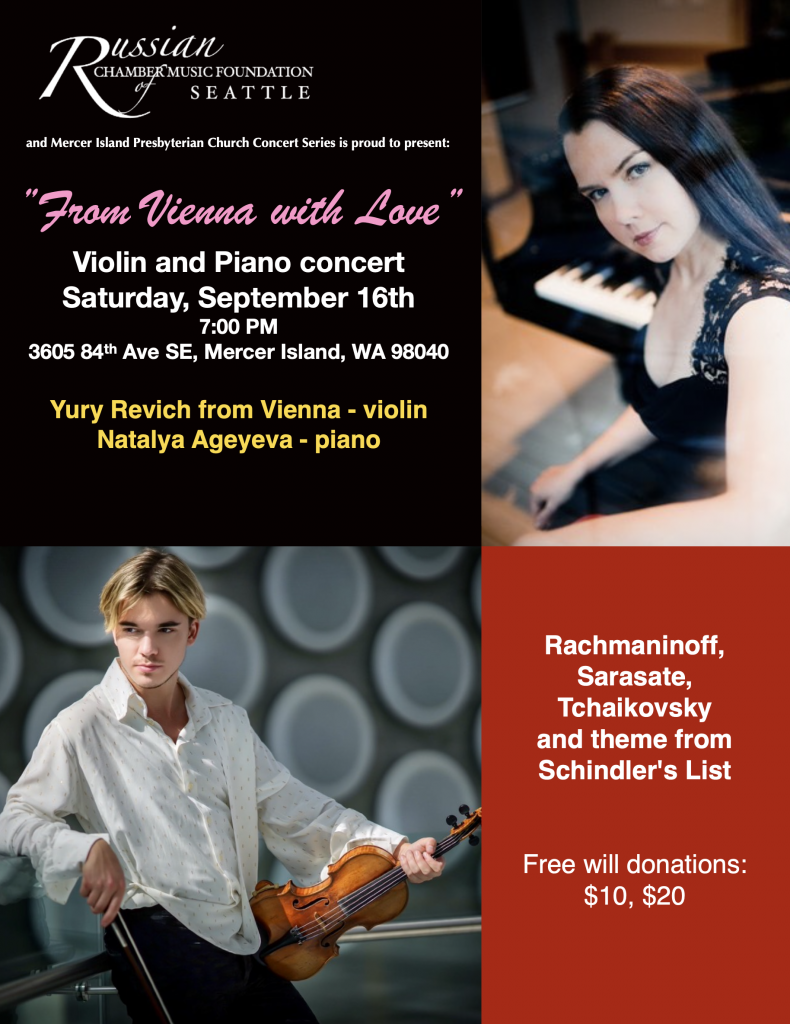 YURY REVICH
Austrian violinist and composer Yury Revich won the ECHO Klassik Award, the International Classical Music Award, and his recording of Saint-Georges double concertos was listed on the US TOP 100 Billboard classical charts in 2021.
At 18, he debuted in Carnegie Hall alongside Daniil Trifonov and later debuted with Tchaikovsky's Violin Concerto at Teatro Alla Scala in Milan. Since then, he has been performing at venues such as Berlin Philharmonie, Vienna Musikverein, London Cadogan Hall, Vienna Konzerthaus, Alte Oper Frankfurt, Prinzregententheater Munich, Tonhalle Zurich, Leipzig Gewandhaus, BOZAR Brussels and many others.
As a soloist, he performed with the La Verdi Milano, Deutsche Staatsphilharmonie Rheinland-Pfalz, Zagreb Soloists, Nordwestdeutsche Philharmonie, Kammerphilharmonie Potsdam, Collegium Musicum Basel, München Symphoniker, Berliner Symphoniker, Tonkünstler-Orchester Niederösterreich, he toured with the Royal Philharmonic Orchestra and worked with conductors such as Mikhail Pletnev, Liana Isakadze, Sebastian Weigle, Zhang Xian, Duncan Ward, Johannes Schlaefli, etc. As a prize-winning recording artist, he recorded 9 CDs for various labels, including SONY and NAXOS. Among this repertoire are works for violin and orchestra by composers such as Romberg, Doderer, Piazzolla, Saint-Georges, and Vivaldi. Besides performing many works dedicated to him by composers like Johanna Doderer and Benjamin Rota, Yury is a keen composer. For example, recent premieres were at the Choriner Musiksommer Festival with Berlin Symphony Orchestra, Liszt Festival in Austria, with Munich Symphony Orchestra at the Summer Proms, World Space Week 2021, and the World Expo in Dubai in 2021.
In 2023 his album of music by Chevalier St. Georges was included in the official soundtrack of the Netflix series "Bridgerton". In October 2023, he will be composing and curating music and art performances for Art Basel in Paris.
As a traditionally trained classical musician, it has always been important for Yury to collaborate with artists across the board, within and beyond classical music. His interest in interdisciplinary and cross-genre collaborations reaches over to contemporary art, dance, literature, and various musical genres. He collaborated with Ute Lemper, Sunnyi Melles, Cornelius Obonya, Christiane Hörbiger, Ramon Vargas, Constantin Luser, Pixie Lott, Arotin and Serghei, Gabriel Prokofiev and Gérard Depardieu. In a more classical setting, he performed alongside Paul Badura-Skoda, Sumi Jo, Alexey Igudesman, Ferhan and Ferzan Önder, Angelika Kirchschlager, and various others. Several of the artists mentioned above were guests in his concert series "Friday Nights with Yury Revich, " which he established in 2015, and launching his new festival: Festival Nights in Vienna, in October 2023.
Born into a musical family of violinists since the 19th Century, Yury started playing the violin at age 5. For over a decade, advocating for various charitable and philanthropic causes has been vital for him. Among his projects is the Austrian Gala Charity "All for Autism, "which he started in 2015 and advanced to one of Europe's most significant Autism Awareness events. He created and hosted the Dreamland Gala for UNICEF for years. Since 2021, Yury has been an Honorary Representative of UNICEF Austria. Under the invitation of the Austrian president, Yury performed his original music at, curated, and directed the concert dedicated to the Day of Austria at the 2021/2021 World Expo in Dubai. Vogue, Forbes Magazine, The Times, ORF, ZDF, Sat1, Puls4, Die Zeit Magazin, etc have featured him.
From 2016 till 2022, Yury played on a 1709 Stradivarius; currently, he plays on Guarneri on loan from Mr. Lukas Hufnagl and on Alain Carbonar Violin made especially for him.
NATALYA AGEYEVA
Natalya Ageyeva has dazzled audiences throughout the United States and internationally, including Italy, Austria, and Israel, as well as on tour in her native Russia. Her performances have also been broadcast several times locally on KING-FM in Seattle and televised in Moscow and Chicago. She has appeared at a broad range of venues, including the Governor's Mansion in Olympia, Carnegie Hall in New York, Benaroya Hall in Seattle, and the Rachmaninoff Hall in Moscow. Her pianism prompted one reviewer to write "Immediately apparent was a tremendous technique at the command of a sharp musical intelligence and fingers of steel."
Her artistry has earned her awards and recognition around the world, including the Young Artist Competition in Moscow, Rotary Club Scholarship in Chicago, Brechemin Scholarship at the University of Washington, Solo Competition Award from the Ladies Musical Club of Seattle, the Green Lake Music Festival Competition in Wisconsin, Bradshaw & Buono International Piano Competition in New-York, and the Zinetti International Chamber Music Competition in Italy. An artist of great versatility, Ageyeva has performed as a recitalist, chamber musician, and soloist with orchestras internationally. She has also been an active participant in many music festivals, including the Seattle Chamber Music Society's Summer Festival, Methow Valley Music Festival in Winthrop (WA), Mostly Nordic Chamber Music Series in Seattle, Second City Chamber Series in Tacoma (WA), First Sunday at the Commons Series in Bainbridge Island (WA), Seattle Symphony Chamber Music Series in Seattle (WA), and Green Lake Music Festival (WI).
Ageyeva began formal piano lessons at the age of thirteen when she was accepted by the prestigious Special Music School for Talented Children in Moscow, and graduated with honors in the Masters Program from the world-renowned Tchaikovsky Conservatory in Moscow, where she studied with Valeriy Kastelsky. While at the Moscow Conservatory, Ageyeva was offered extensive solo and orchestra appearances throughout the former Soviet Union. She completed her doctoral degree at the University of Washington with distinguished pianists Bela Siki and Robin McCabe. She has also worked with well-known pianists John O'Conner, Victor Merjanov, and Helene Grimaud, and collaborated with conductors Vladimir Vais, Alexander Rudin, and Peter Erös.
Ageyeva previously taught at Moscow Conservatory and University of Washington, and has adjudicated piano competitions in Chicago and Seattle. Ageyeva is the Founder and Artistic Director of the Russian Chamber Music Foundation of Seattle. It is starting its third successful year of bringing high-level chamber music to the Seattle area. 
———————————————————–
MOSTLY MUSIC IN THE PARK
MERCERDALE PARK
3009 77th Ave SE, Mercer Island, WA 98040
Thursday, July 13, 2023 –

6:30pm

to

8:30pm
FREE CONCERT! Bring your picnic blanket and snacks!

---
PAST EVENTS
SHINING STARS CONCERT
FEATURING
Specially selected Gold Medalists from the 2022 RUSSIAN MUSIC COMPETITION
Saturday, May 13, 2023, 7:00 pm
Mercer Island Presbyterian Church
3605 84th Ave SE, Mercer Island, WA 98040
ADMISSION: Free Will Donation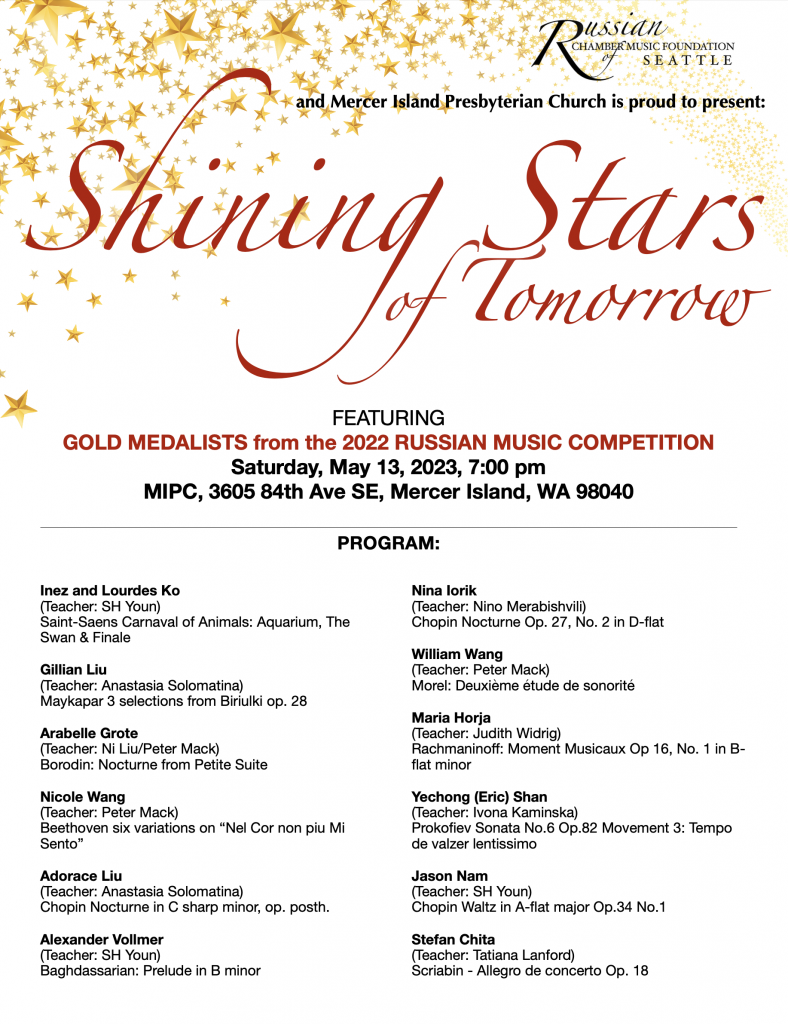 MUSICAL INSPIRATION
Saturday, October 8, 2022 at 7:00 PM
Mercer Island Presbyterian Church, 3605 84th Ave SE, Mercer Island, WA
Pre-registration required at www.mipc.org/concert
An evening of inspiring music with RCMFS Director Natalya Ageyeva and her friends
Natalya Ageyeva, pianist and director of RCMFS
John Kim, violin, concert master, Bellevue Symphony
Virginia Dziekonsk, cello, assistant principal of PNB Orchestra
Allan Park, pianist and President of Pacific Competitions
Works by Schubert, Rachmaninoff and more!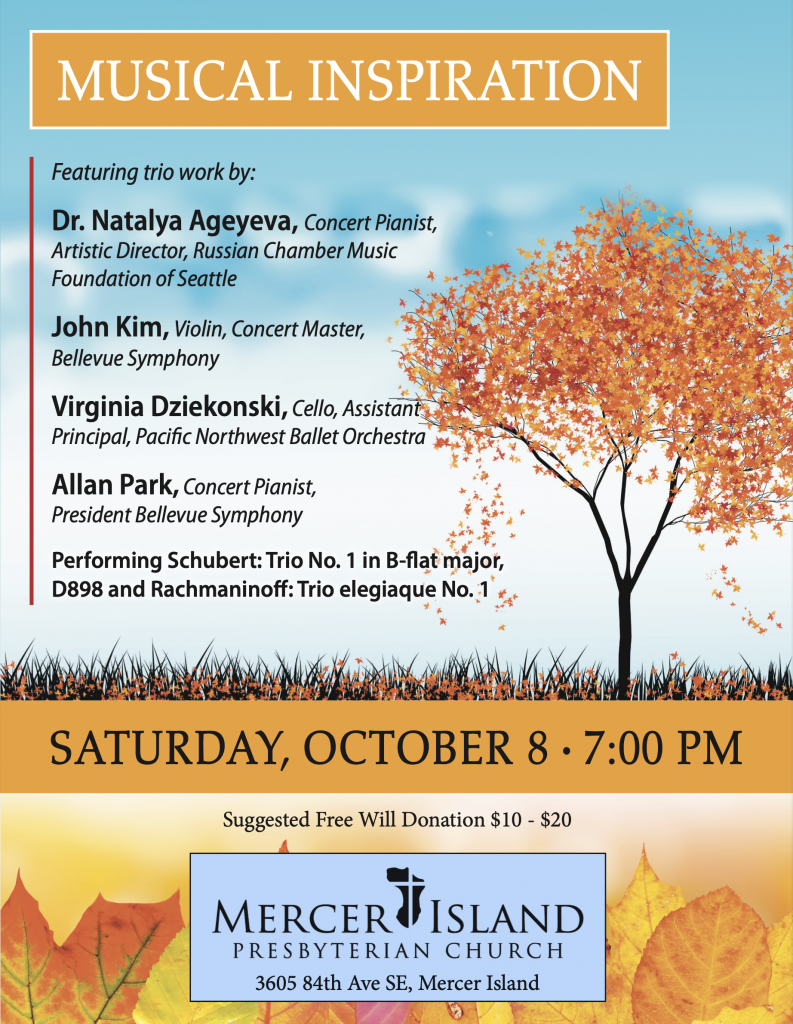 SUNDAY, AUGUST 14, 2022 AT 4:30 PM – 6 PM
Luther Burbank Park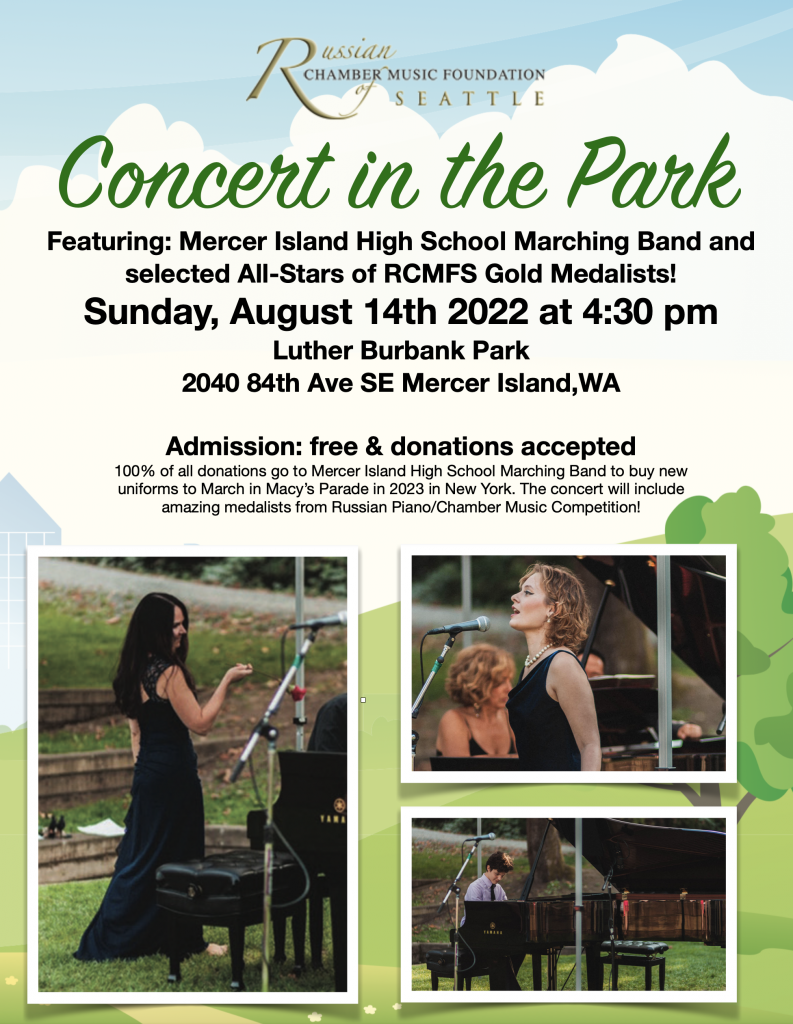 ---
Saturday, March 19th at 7:00 PM
Mercer Island Presbyterian Church
3605 84th Ave SE, Mercer Island, WA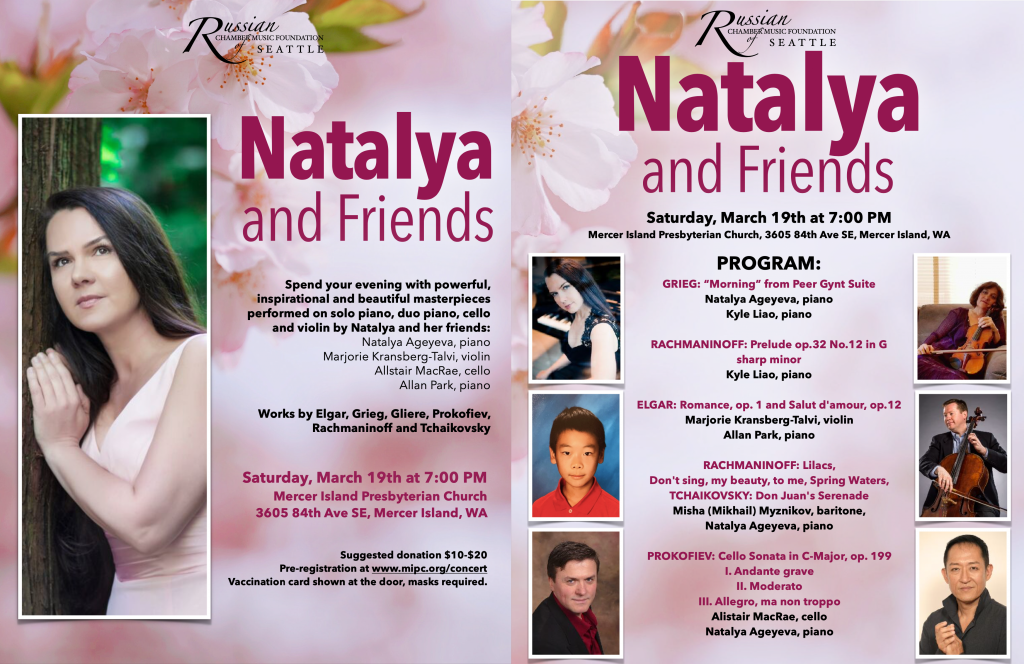 ---
2022 GOLD GALA
featuring selected Gold Medalists from the 2021 Russian Music Competition
VIEW OUR YOUTUBE PLAYLIST
Saturday, January 15, 2022 at 7:00 PM
Mercer Island Presbyterian Church
3605 84th Ave SE, Mercer Island, WA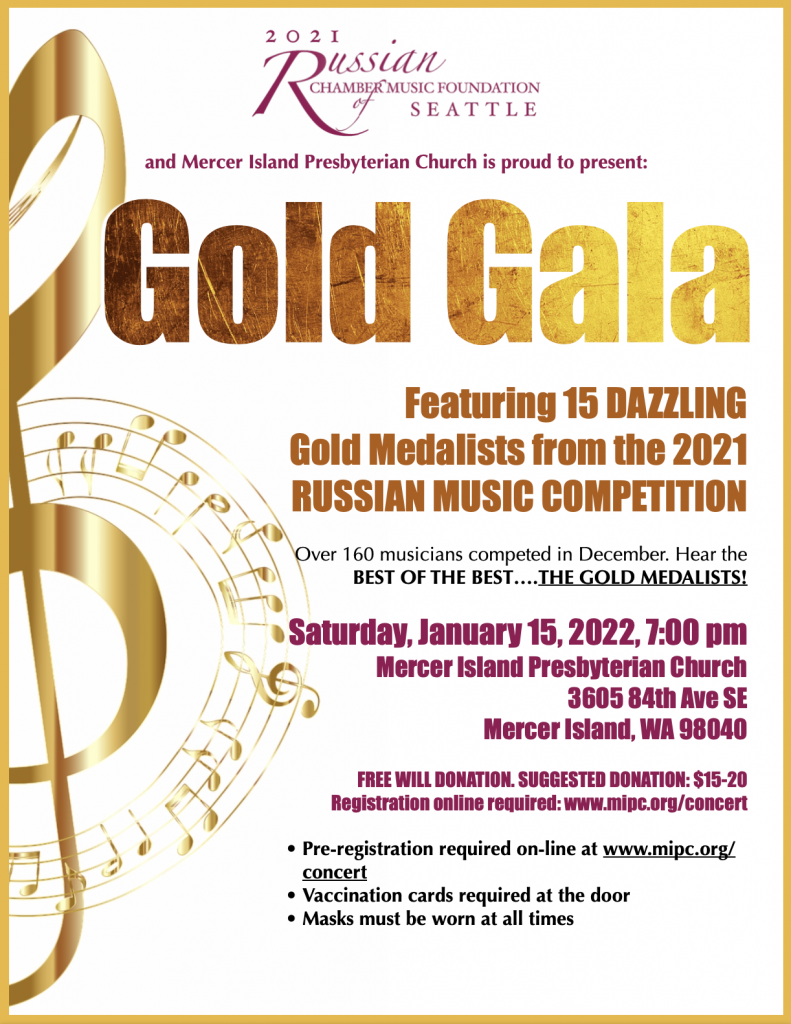 ---
2021
2021 Russian Chamber Music Competition (December 10-15th)
2020
2020 Russian Chamber Music Competition (December 23rd)
"Winter Nights" Concert 2020: Celebrating International Womens' Day (March 8th)
2019
Gold Medalists' Concert (December 15th)
Russian Solo/Chamber Music Competition (December 14th)
Autumn Evenings (November 2nd)
Recital with pianist Natalya Ageyeva (September 21st)
Concert in the Park (July 28th)
Russian Preludes and Paintings (April 13th)
"Winter Nights" 2019 (February 24th)
King FM 98.1 and NW Focus Live (February 15)
2018
Winners' Concert (December 2nd)
Russian Piano/Chamber Music Competition (December 1st, All Day)
Special Recital: Inna Faliks (November 30th)
"Heritage Symphony Extravaganza" (November 10th, 3:30 PM)
"Autumn Evenings" Concert (November 4th, 3:00 PM)
"Lyrical Darkness" Concert (September 22nd, 7:30 PM)
Concert in the Park (August 18th)
Special Performance: Eleonora Karpukhova (July 8th)
Scriabin and Poetry Concert (May 5th)
10th Anniversary "Winter Nights" Concert (March 10th)
2017
New Year's Gala (December 31st, 8:00 p.m.)
Winners' Concert (December 10, 12:30 p.m.)
Russian Music Competition (December 9, All Day)
"Autumn Evenings" (November 19, 5:00 p.m.)
Mercer Island Concert (September 16, 7:30 p.m.)
Fundraiser at Insignia (May 7th, 4:00 p.m.)
"Rachmaninoff and Paintings" (April 22, 7:00 p.m.)
Winter Nights (February 19th, 5:00 p.m.)
2016
Concert in the Park (August 19, 5:00 p.m.)
Festival Winners' Concert (December 4th, 2:00 p.m.)
Russian Chamber Music Festival/Competition (December 3rd, All Day)
Autumn Evenings (November 27th, 5:00 p.m.)
Concert in the Park (August 14th, 5:00 p.m.)
Winter Nights (February 14th, 5:00 p.m.)
2015
Festival Winners Concert (December 6, 1:30 p.m.)
Russian Chamber Music Festival (December 5, All day)
Festival Artist Concert (December 4, 7:00 p.m.)
Autumn Evenings (October 4, 2:00 p.m.)
Music Around the World (September 12, 7:00 p.m.)
Concert in the Park 2015 (August 15, 5:00 p.m.)
Winter Nights 2015 (February 22, 2015 5:00 p.m.)
2014
Festival Winners Concert 2014 (December 14, 1:00 p.m.)
Russian Piano/Chamber Music Festival/Competition (December 13, All day)
Festival Artist Concert, Frye Art Museum, Seattle (December 12, 7:30 PM)
"Autumn Evenings" (October 12, 5:00 PM)
Russian Chamber Music in the Park (August 16, 6:00 PM)
Mercer Island Presbyterian Church, Mercer Island (September 13, 7:00 PM)
"Seasons" by Tchaikovsky with the winners from the Russian Piano Festival/Competition and Emerald Ballet Theatre (April 27, 2014 at 3:00 PM at Benaroya Nordstrom Recital Hall)
Winter Nights 2014 and Pre-Concert Recital (February 23, 2014 at 5:00 PM at Benaroya Nordstrom Recital Hall)
2013
2013 Piano Festival/Competition
Annual Piano Recital Series
Keyboard Wizards Recital
Winter Nights 2013
Autumn Evenings 2013
Russian Music in the Park
"Pictures at an Exhibition" in Partnership With Emerald Ballet Theatre
From Russia With Love
2012
5th Russian Piano Festival/Competition
Russian Piano Festival/Competition Gala Concert – "Keyboard Wizards"
Autumn Evenings 2012
Mercer Island Presbyterian Church
Eastside Piano Recital Series 2012
Winter Nights 2012
2011
Competition Winners Gala Concert – "Keyboard Wizards"
Second Annual Eastside Piano Series Recital — Eugene Skovorodnikov
Fourth Annual Russian Piano Festival/Competition
Autumn Evenings 2011
Rimsky-Korsakov String Quartet
Candlelight Benefit Concert for Japan
Winter Nights 2011
2010
Piano Festival/Competition 2010
Eastside Piano Recital Series 2010
Autumn Evenings 2010
Winter Nights 2010
2009
Autumn Evenings 2009
Meet the RCMFS
Winter Nights 2009
2008
Portrait of Rachmaninov
Winter Nights Inaugural Concert 2008