The Russian Chamber Music Foundation of Seattle was chartered in 2007 as a non-profit corporation. Our mission is "to bring the best of Russian music to American audiences."
---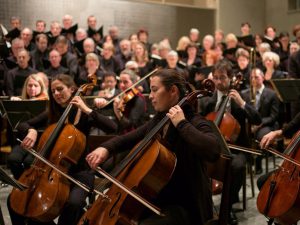 The organization is the brainchild of Dr. Natalya Ageyeva and represents a long-held vision of hers. Born in Moscow, with a passion for Russian culture and music, educated in Russia and the United States, all in addition to being an accomplished performing artist – this background makes her the ideal choice for Artistic Director.
For seven years, Seattle-area audiences have heard many outstanding concerts and can look forward to many more in the future. We entered this market at a high level; our record of success tells us that this is what audiences want, and we will continue to offer outstanding artists and programs. The model for our performances is to invite accomplished individual artists from near and far and combine them into different ensembles to fit the program designed by the Artistic Director. The programs are drawn from the rich and wonderful heritage of Russian chamber music. The Foundation also has hosted the highly-successful Russian Piano Festival/Competition each year since 2008. In addition to our signature concerts at Benaroya Hall, we collaborate regularly with the Mercer Island Presbyterian Church for a variety of presentations. The first outdoor "Concert in the Park" at Luther Burbank Park in Mercer Island was presented in 2013; it is now a major annual event.
The Board of Directors oversees the management and fiduciary functions and generates the resources to support the growth of the Foundation. The Artistic Advisory Board includes a number of well-known musicians from the greater Seattle area. This board aids the Artistic Director in developing programs and identifying appropriate artists.
Non-profit 501(c)(3) status has been granted by the IRS so all donations are tax-deductible. We are confident that great music presented by great musicians will ensure a donor base that will continue to underwrite a sustainable organization. This will assure a future with many exceptional performances and competitions as well as continued expansion into other activities such as master classes, outreach programs in schools, and collaborations with other arts organizations.
Dr. Winston Addis, President-Emeritus
Why RCMFS?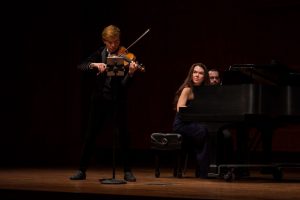 The Russian Chamber Music Foundation of Seattle is a non-profit organization that exemplifies the many facets of Russian music. For example, the involvement of children in festivals and competitions allows them to develop broader knowledge of Russian music and improve their technique. Outreach programs in schools increase the diversity in their music programs. The Russian Chamber Music Foundation has partnered with the prestigious Chamber Music Society of Lincoln Center in New York as well as other high-level organizations. RCMFS can definitely build a cultural foundation of Russian chamber music and demonstrate that anyone can listen to, enjoy, learn, perform, and be moved by Russian music.
Our organization represents a unique niche in Seattle that allows audiences to be drawn by the magnetism of Russian chamber music. Chamber music in general creates an experience of intimate communication with the music and musicians. The RCMFS enables audiences to gain deeper knowledge of Russian culture through the art of music. Central to our mission is to invite high-level musicians from around America and abroad to perform chamber music in our beautiful city of Seattle.
Our mission is "to bring the best of Russian music to American audiences." We are promoting Russian chamber music and hoping to develop stronger cultural relationships between the United States and Russia. The arts are a wonderful arena in which to find common ground that transcends cultural, political and geographic boundaries. The commitment of our founders and sponsors will continue to make this important vision possible!
Dr. Natalya Ageyeva, Artistic Director