Meydenbauer Center Theater | November 10th, 2018 | 3:30 PM
Russian Chamber Music Foundation of Seattle and partnership with Heritage Symphony is proud to announce Fall Concert with RCMFS 1st place Concerto Winner, Meredith Nam.
Program
Featuring 3 Extraordinary concertos and 3 Extraordinary Pianists
Meredith Nam performs Rachmaninoff Piano Concerto No. 2 in C minor, 1st movement
Chopin NW Foundation medalist Deanna Han performs Chopin Piano Concerto no. 2 in F minor, 1st movement
PAFE 1st place Concerto Winner, Nicole Wang performs Grieg Piano Concerto in A minor, 1st movement.
Performers
Meredith Nam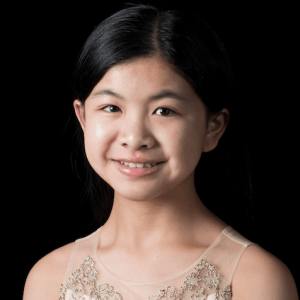 1ST PLACE, CONCERT DIVISION, 2017 Russian Chamber Music Festival of Seattle
Meredith Nam, age eleven, is a seventh grader at Gateway Middle School. A native of Seattle, WA, she started learning piano at the age of nine and is currently studying piano under Allan Park. Over the course of two years, she has won numerous awards at regional and state competitions. In May, she won gold at the Virtuoso Festival. She was a finalist in her age division for the KING FM Young Artist Awards Competition and performed live on the radio in June 2018. In April 2018, she placed first in the concerto and solo divisions at the Performing Arts Festival of the Eastside.
Others awards include being one of the top winners of the Conventional Recital Competition and winning the top prize in three categories at the Russian Chamber Music Competition in 2017. Meredith is also an aspiring cellist studying under Olga Ruvinov. She occasionally does judo at the Budokan Dojo in Seattle. Besides music, she likes to read, draw, travel and spend time with her family. She is also interested in computer programming and artificial intelligence.
Deanna Han
SILVER MEDALIST, 2018 Chopin Foundation of the United States, NW Council, Concerto Division
Seventeen-year-old Deanna Han started piano lessons at the age of seven. She is currently a student of Dr. Sasha Starcevich and made her orchestral debut at MusicFest Perugia 2016 with the University of Alicante Philharmonic Orchestra and was invited back to perform with the Brunensis Virtuosi Orchestra in 2017. Most recently, she placed silver in both the solo division and the concerto division at the Northwest Chopin Festival and placed third at the Washington State Solo and Ensemble Contest. Other awards include being a concerto finalist at the 2017 Seattle Young Artists concerto competition, receiving honors at the 2016 Washington State Outstanding Artist Competition, representing her high school and region at the Washington State Solo Ensemble contest consecutive years, winning silver in the 2016 and 2018 Northwest Chopin Festival and winning numerous other regional, district, and local awards.
In her free time, she enjoys volunteering for her community. She has been specially recognized by Shoreline mayor Chris Roberts and has performed concerts for Skyline Retirement Community at First Hill. She is currently a senior at Shorewood High School in Shoreline, Washington. Her violin/piano duo had won 1st place in the annual Northwest Orchestra Competition in Gresham, Oregon. Her high school orchestra was invited to play at Carnegie Hall in April 2018 and she was featured with the Chamber Ensemble as a violinist. She is also an honors/AP straight A student, a member of the Shorewood High School varsity swim team, and a violinist in Shorewood's renowned Chamber Ensemble.
Nicole Wang
1ST PLACE CONCERTO DIVISION, 2018 Performance Arts Festival of the Eastside
Nicole Wang is a freshman from Skyline High School in Sammamish, Washington. She has been playing piano since the age of 5 and is currently studying with Nino Merabishvili. She has earned first place awards in PAFE (including solo and concerto) since 2012 and also received best of division (2015, 2018) and Judith Thiel Award for Piano (2017) from the same competition. She has also earned top prizes in MTNA, OAC, and EMTA competitions, to list a few. Besides piano, Nicole enjoys playing cello, reading, and hanging out with her family and friends.